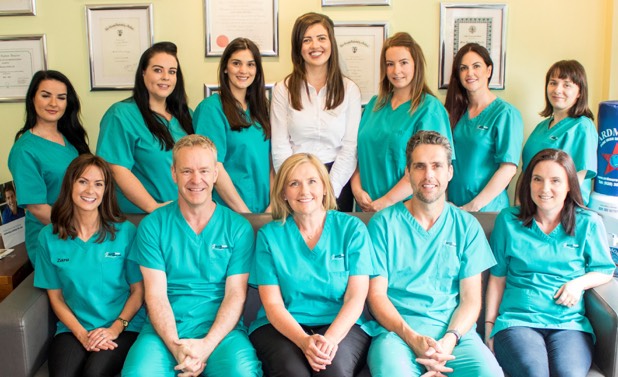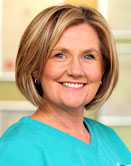 Dr Katrina McKevitt
GDC No:70354
"I love my career as co-owner and one of the principal dentists at Appletree. I love nothing more than saving teeth and restoring confident smiles. We see first-hand every day the difference a confident, comfortable smile can make to our patients' lives. It is a privilege to be able to co-lead the Appletree team who are such a dedicated and talented team of dental professionals, and an honour to look after our expanding patient base who come from far and wide to entrust us with their dental care"
Dr Katrina McKevitt qualified with 1st class Honours from Queens University Belfast in 1994. As an undergraduate she also achieved a 1st class Intercalated BSc in Pathology in 1993.
Upon qualification Katrina gained two years valuable experience in Senior House Officer positions at Dublin Dental Hospital and Queen's University Belfast before moving to her chosen path of General Dental Practice. In her vocational training year in 1996 she was awarded the prestigious British Endodontic Society VT award. Then followed 10 years as an associate dentist in several progressive dental practices in Northern Ireland before deciding in 2006 that the time was right to open Appletree Dental Care, a private dental practice in Newry with friend and colleague Dr Conor McEnhill. Katrina and Conor have led the practice expansion and development into an multi award-winning, patient centred practice offering all aspects of general and specialist dental services. We are most particularly proud of Appletree's recognition for patient care in 2016, when Appletree was named overall Dental Practice of the Year at the Northern Ireland Healthcare Awards.
Katrina developed an interest in restorative dentistry and in the restoration of Implants. She completed a one-year Certificate in Implant Dentistry from Warwick University in 2002 and developed her skills in managing complex restorative cases with an intensive one-year Dr Paul Tipton course in 2010 to achieve a Certificate in Restorative Dentistry. She has enjoyed attending dental restorative courses with Dr Chris Orr and Dr Francesca Vailati. Katrina attended an Advanced Implant Restorative course over six months in 2016 with world renowned teacher Dr Tidu Mankoo. Katrina is a member of the Irish Academy of Aesthetic Dentistry, IAAD.
Katrina is married to Colm and has three children. She enjoys hillwalking and cycling in the Mournes and volunteers with Warrenpoint GAA as their Healthy Club Officer.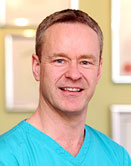 Dr Conor McEnhill
GDC No:69871
Dr McEnhill originally qualified from Queen's University Belfast in 1993 attaining distinctions in Medicine and Surgery and in Microbiology but after a year in general practice he returned to hospital in 1995. The next three years were spent gaining experience in three oral and maxillo-facial surgery units in Northern Ireland and Wales. This period culminated in attaining his Royal College of Surgeons Fellowship in 1999. This was to prove the springboard for his developing interest in dental implants and further training was to take place in London's Harley Street setting of the Centre for Implant and Reconstructive Dentistry. This Clinic is run by Dr Ashok Sethi, acknowledged to be the foremost authority in dental implants in the UK.
Dr McEnhill is a former winner of the Best Single Implant award at the UK Smile Awards ceremony in London and the peer recognition of this award is something Appletree is very proud of. Completed in 2006, he holds the Advanced Implant Dentistry Diploma of the Royal College of Surgeons of London, considered to be the 'gold standard' course in Implant Dentistry. As an Advanced Diplomate, full training in all aspects of bone augmentation has been attained, a treatment that is a frequent pre-requisite to implant placement. Dr McEnhill is also a Fellow of the Royal College of Surgeons of Edinburgh Dental Faculty, which is the most prestigious post-graduate dental award, and is a member of the Association of Dental Implantology (ADI). He has been on the ADI mentor list for many years, providing clinical and academic teaching to fellow dental professionals.
Dental Implant and Oral Surgery referrals from colleague's accounts for most of his clinical time and he is one of the few of clinicians in Ireland providing 'socket shield' techniques in the provision of implant treatment, preventing bone loss in the jaw around implants. This has significantly reduced the amount of bone grafting that his patients require and has truly transformed dental implant therapy in Ireland.
His practice is state of the art with full 3D CT scanning facilities guaranteeing precision in the planning of implant cases, making for straightforward surgery. He also routinely uses platelet rich fibrin techniques with a patient's own blood sample to make natural grafting possible. This has application in sinus surgery and bone grafting, ensuring best possible healing post-operatively.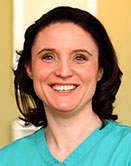 Dr Joanne Redpath, Dentist
GDC No:80705
Joanne Redpath qualified from Queen's University Belfast in 2003 and has worked with Appletree since 2010. She was a finalist for the UK Aesthetic Dentistry Awards 2016 in the Single crown and Patient choice categories. She was also selected as a finalist in The Dentistry Awards in 2011 for the category of Best Young Dentist in Northern Ireland.
For those of you with a busy schedule, late evening appointments are available with Joanne.
Joanne is very impressed with our Zoom Whitening in surgery and feels it is the best tooth whitening system she has ever worked with. She also like restoring smiles with Crowns and building up broken down teeth with root canals prior to crowns.
Joanne attends the annual Irish Academy of Aesthetic Dentistry Conference and was in attendance at the Dr Gerard Chiche Smile Design Conference in The Titanic Centre, Belfast. Learning from this dental guru led to completion of 'The Perfect Smile Studios and Institute Interdisciplinary and comprehensive 7 days Hands On course'. Keeping up to date is very important to Joanne and she goes on many courses each year.
She aims to improve the dental health and aesthetics of each person she sees, looking to see what will work in their mouth. As the norm she would photograph teeth both to record the dental health and to help assess the aesthetics. She will discuss all your options and then decide the best route together with you. Written treatment plans outlining costs and a letter outlining your dental health will be provided.
Joanne has a great ability to put patients at ease and she will ensure she formulates a long-term plan for your teeth whilst also enhancing aesthetics. Joanne uses magnifying Loupes and a LED light for all treatments.
Outside of work, Joanne has been a Chairperson for Carlingford tidy towns and is currently an active volunteer which requires great dedication and hard work.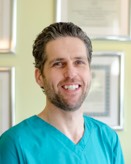 Dr Brian Vaughan, Dentist
GDC No:74980
Brian Vaughan joined the Appletree team in January 2017 offering high quality, good value, root canal treatments. This branch of dentistry is called endodontics and this work is undertaken solely on referral from other dental colleagues.
Since qualifying from Queen's University Belfast in 1998 Brian worked in general practice in England before returning to Northern Ireland where he worked in general practice and the Restorative department in the Royal Victoria Hospital. Over this time and after attending numerous post graduate courses he developed a Special Interest in Endodontics. In 2017 he completed a Masters in Endodontics from King's College London with distinction. He is currently a clinical supervisor on this Masters programme. Brian has completed training in the use and interpretation of CBCT imaging and regularly uses this latest imaging technique to aid in the diagnosis and treatment of complex cases. He is a member of the British Endodontic Society and a certified trainer for Dentsply Sirona. Outside of dentistry he is married with three children. He enjoys gardening and is a keen sports fan especially tennis.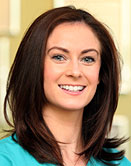 Zara McKibbin, Hygienist
GDC No:178562
Appletree dental hygienist, Zara, treats patients who suffer from gum disease by whichever course of treatment is most suitable. Her main role within Appletree is prevention of oral disease by education. She will educate you in the latest methods of plaque removal in order to maintain a healthy mouth.
Zara first came to Appletree as a trainee dental nurse in 2006. She achieved the highest marks in NI in the dental nursing certificate and decided to push herself further. Zara returned to university to complete a Diploma in Dental Hygiene and graduated in 2009. In her first year she won the GSK Perpetual Trophy for best performance in the primary examination. Through her final year this high level of success continued as she won the Medical Imaging Award for highest marks in Radiography. She then finished her diploma by being awarded the very prestigious LM Hygienist Award for best Overall Student, having achieved distinction standard in every module.
Zara has been recognised for her excellent work in 2014 when she won Best Dental Care Professional in NI, Irish Dentistry Awards; was a key member of the team when in 2016 Appletree won Dental Practice of the Year, 17th NI healthcare awards; and in 2017 was awarded highly commended as Dental Hygienist/Therapist of the Year, 18th NI healthcare awards.
Zara's particular areas of interest include challenging periodontal cases and being part of a larger treatment plan for patients involving dentists in the practice.
Zara can quickly build rapport with patients and enjoys seeing the transformation in patients' oral health. She performs her work to the highest standard. Zara is also busy outside of work spending time with her young family.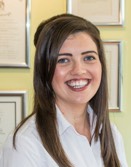 Caroline Mullan, Practice Manager
GDC No:247387
Caroline Mullan joined Appletree in August 2013 and has been Appletree's Practice Manager since 2017. Caroline has proved herself a highly competent Dental Nurse and is a professional, warm and highly dependable Practice Manager. Caroline achieved her National Education Board Dental Nursing in 2011 and her Dental Sedation Nursing certification in 2018. She has attended many role-related training courses to continue to be an up to date and professional Practice Manager. She also enjoys networking with her peers on the Practice Manager Forum.
Caroline has gained invaluable experience working with all the Dentists and has a particular interest in oral surgery and endodontics. Caroline quickly puts patients at ease as they come into reception and will ensure everyone who comes to Appletree will have a positive experience.
Caroline is a natural leadership figure with a very positive 'can do' attitude, and the ability to work very well as a team member. She is friendly, trustworthy and dedicated to her role.
Outside of work Caroline loves spending time with her young family. She also enjoys travelling.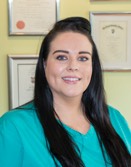 Caroline Smyth, Dental Nurse
GDC No:251978
Caroline Smyth has been a qualified dental nurse since 2011. Caroline achieved her National EB Dental Nursing in Drogheda Institute of Further Technology and Southern Regional College. Caroline has been with Appletree since August 2017 and has demonstrated excellent team skills and has a friendly and professional manner. She has great dental nursing experience and this is evident in her work within Appletree and in her ideas for continuous improvement projects.
Caroline works in all aspects of the practice and is particularly interested in cosmetic dentistry, oral surgery and teeth whitening. She has attended many courses related to her role and achieved Dental Sedation Nursing certification in 2020.
Outside of work, Caroline has an interest in beauty and has completed a beauty qualification. She also enjoys swimming, walking and socializing with her friends.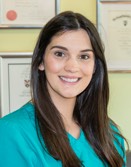 Donna Wilson, Dental Nurse
GDC No:251978
Donna joined the Appletree team in March 2018 and is a valued member of the team. Donna achieved her National Diploma in Dental Nursing in the Southern Regional College in March 2018.
Donna's experience before joining Appletree was in assisting in general surgery, but she has developed a keen interest in oral surgery and implants whilst working with Conor.
Donna's main strengths are her organisational skills, team skills and quickness to learn.
Outside of work Donna enjoys spending time with her young family.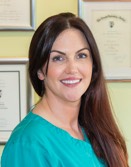 Karen McCourt, Dental Nurse
GDC No:134249
Karen has been with Appletree since 2014 and a qualified dental nurse since 2007. Karen has attended a number of role-related courses and successfully achieved the Certificate in IV sedation.
Karen is the lead nurse with Brian Vaughan for Endodontics, and also has a real interest in oral surgery, i.e. implants and surgical extractions.
Karen is an experienced member of the team, highly professional and has a friendly and warm disposition.
In her spare time Karen enjoys going to the gym, walking and spending time with her young family.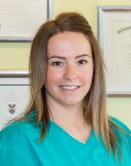 Lisa-Marie McKinney, Receptionist
Lisa-Marie is currently working as Receptionist within Appletree. She has a wealth of experience having worked with Appletree between 2006 - 2017 as a Dental Nurse, and rejoining Appletree in 2018. She achieved her Diploma in Dental Nursing from Belfast metropolitan College in 2008.
Lisa-Marie ensures all patients receive a warm welcome as they enter Appletree and can confidently discuss options of treatments face to face and over the phone. She has a comprehensive knowledge of all aspects of Dentistry and has a lovely calm disposition with excellent attention to detail. Her ability to recognise and reassure a nervous patient is important in her role and for the patients who come to Appletree for treatment.
Outside of work, Lisa-Marie loves spending time with her young family, socialising with friends, and if there is any time left in the day she enjoys picking up a good book to read! She also enjoys travelling.