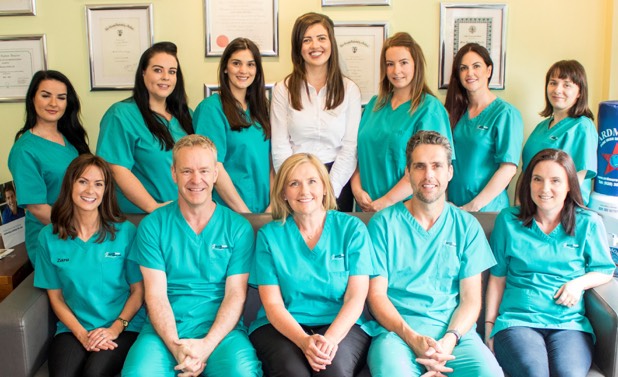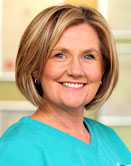 Dr Katrina McKevitt
GDC No:70354
Dr Katrina McKevitt qualified first in her year from Queens University with a 1st class honours in 1994, following a year achieving a 1st class BSc in pathology in1993. She won the prestigious British Endodontic Society Award during her vocational training year.
Her early career was spent in hospital dentistry in both Dublin Dental Hospital and The School of Dentistry in Belfast. She has over 15 years experience in general practice and enjoys all aspects of restorative dentistry with special interests in endodontics and cosmetic dentistry. She has completed the Certificate in implant dentistry from Warwick University in 2003, and in 2010 completed an intensive one year course in Restorative Dentistry with Dr Paul Tipton in Dublin.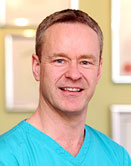 Dr Conor McEnhill
GDC No:69871
2012 was crowned by the great achievement of Dr McEnhill winning the Best Single Implant award at the UK Smile Awards ceremony in London. The recognition of ones peers with this award is something the practice is very proud of. Dr McEnhill holds the Advanced Implant Dentistry Diploma of the Royal College of Surgeons of London. This is considered to be the 'gold standard' course in Implant Dentistry and was completed by him in 2006. As an Advanced Diplomate, full training in all aspects of bone augmentation has been attained, a treatment that is a frequent pre-requisite to implant placement. Dr McEnhill is also a Fellow of the Royal College of Surgeons of Edinburgh Dental Faculty, which is the most prestigious post-graduate dental award. He is a member of the Association of Dental Implantology (ADI) and has been on the ADI mentor list for four years, providing clinical and academic teaching to fellow dental professionals. Dental Implant and Oral Surgery referrals from colleagues accounts for most of his clinical time. Dr McEnhill is presently active in a UK-wide implant data-pooling audit with the Royal College of Surgeon's of London to determine optimum implant treatment outcomes. This will represent the largest exercise of its kind in the world and will define best clinical practice in the years to follow.
He originally qualified from Queen's University Belfast in 1993 attaining distinctions in Medicine and Surgery and Microbiology but after a year in general practice he returned to hospital in 1995. The next three years were spent gaining experience in three oral and maxillo-facial surgery units in Northern Ireland and Wales. This period culminated in attaining his Fellowship in 1999. This was to prove the springboard for his developing interest in dental implants and further training was to take place in London's Harley Street setting of the Centre for Implant and Reconstructive Dentistry. This Clinic is run by Dr Ashok Sethi who is acknowledged to be the foremost authority in dental implants in the UK.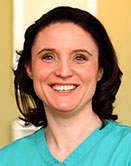 Dr Joanne Redpath
GDC No:80705
Joanne Redpath has over 14 years experience in clinical dentistry. She was a finalist for the UK Aesthetic Dentistry Awards 2016 in the Single crown and Patient choice categories. She was also selected as a finalist in The Dentistry Awards in 2011 for the category of Best Young Dentist in Northern Ireland.
Joanne works with the practice on Wednesdays and Fridays. For those of you with a busy schedule, late evening appointments are available with her on Wednesdays.
Joanne is very impressed with our Zoom Whitening in surgery and feels it is the best tooth whitening system she has ever worked with. She also like restoring smiles with Crowns and building up broken down teeth with root canals and prior to crowns.
Joanne last year attended the Gerard Chiche Smile Design Conference in The Titance Centre, Belfast to learn from this dental guru. And, has completed The Perfect Smile Studios and Institute Interdisplinary and comprehensive 7 days Handson course. Keeping up to date is very important to her and she goes on many courses each year to achieve this.
She aims to improve the dental health and aesthetics of each person she sees, looking to what will work in their mouth. As the norm she would photograph teeth both to record the dental health and to help assessing the aesthetics. She will discuss with you all your options and then you can decide together what is the best route. Written treatment plans outlining costs and a letter outlining your dental health will be provided.
Joanne uses Loupes and a LED light for all treatments as she believes you can do better dentistry when you can see better what you are doing.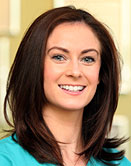 Zara
GDC No:178562
Appletree hygienist, Zara, treats patients who suffer from gum disease by whichever course of treatment is most suitable. Her main role within the practice is prevention of oral disease by education. She will educate you in the latest methods of plaque removal, in order to maintain a healthy mouth.
Zara first came to Appletree as a dental nurse, having achieved the highest marks in NI in the dental nursing certificate; she decided to push herself further. Zara returned to university to complete a Diploma in Dental Hygiene. In her first year she won the GSK Perpetual Trophy for best performance in the primary examination. Through her final year this high level of success continued as she won the Medical Imaging Award for highest marks in Radiography. She then finished her diploma by being award the very prestigious LM Hygienist Award for best Overall Student, having achieved distinction standard in every module.