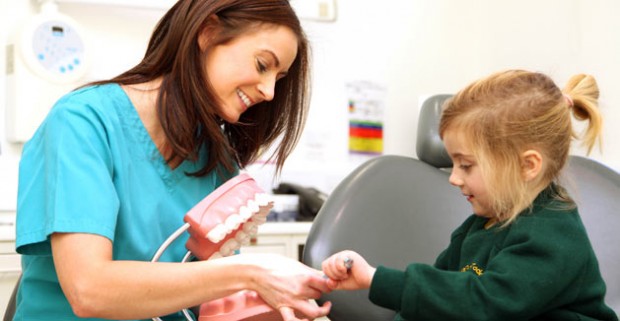 Appletree Dental Care you will receive a warm welcome and the highest standards of professional care. The environment is relaxed and even the anxious dental patient can feel reassured. The focus is consistently on the well-being and comfort of the patient. In keeping with this, the practice and all equipment are state-of-the-art. We operate the highest standards of cross-infection control and cater for a wide range of dental needs by highly qualified and dedicated professionals.
We are particularly interested in continual improvement and encourage any feedback or suggestions. Drop us an email to info@appletreedental.co.uk or see our contact us page.
Preventive Dentistry
Preventive dentistry is the modern way of reducing the amount of dental treatment necessary to maintain a healthy mouth. It helps you to keep your teeth. The two major causes of tooth loss are decay and gum disease. The better we prevent or deal with these two problems, the more chance people have of keeping their teeth for life.
The joint efforts of the dentist and the patient can help to prevent the need for treatment, and so avoid the traditional pattern of fillings and extractions.
A course of treatment may be recommended to get your mouth into good condition, and a maintenance plan will be worked out to help you keep it that way.
Q & A
Is prevention possible?
Yes. With modern dentistry and constant new developments, it is possible to prevent or considerably reduce dental disease.
What is involved?
Your dentist will first assess your teeth and gums, and discuss with you any treatment that is necessary. The main aim is to help you get your mouth really healthy, to try and prevent any dental problems returning. In a healthy mouth it is unlikely that decay or gum disease will continue to be a problem. The dentist will thoroughly 'scale and polish' your teeth. The dentist will show you the best methods of brushing and flossing to remove the bacterial 'plaque' which forms constantly on your teeth and gums. Plaque is an invisible film of bacteria that forms constantly on the teeth and gums. When you eat or drink something sugary, the plaque turns the sugar into acid, which will cause tooth decay. Plaque will also cause gum inflammation if it is not regularly and thoroughly removed. The hard tartar (calculus) which builds up on the teeth also starts off as plaque. You will be advised which oral care products are the best ones for you to use. Your dentist will also make sure that all your fillings are in good repair and there are no rough edges to make cleaning difficult.
How do I keep my mouth healthy?
To have a healthy mouth you need to: brush your teeth twice a day with fluoride toothpaste cut down on how often you have sugary snacks and drinks visit your dentist at least once a year
Cross-Infection Control
At Appletree Dental Care we are proud to practice the highest standards of cross-infection control. Universal precautions are taken and are consistent with the British Dental Association's Good Practice Scheme.
The practice equipment is state-of-the-art and staff are intensively trained in all aspects of cross-infection control. Operating theatre standards of cross-infection control are applied to our oral surgery and implant dentistry.
X-Rays
All the radiology at Appletree is done digitally, which reduces harmful radiation exposure by about 90%. It also does away with the harmful chemicals which can cause damage to the environment.
Oral Cancer Screening
Because the mouth is a region where changes can be easily seen, oral cancer can be detected in its early stages. A detailed examination regularly will help in the early recognition and detection of oral cancer, and increase the chance for cure.
Factors That May Cause Cancer
Research has identified a number of factors that may contribute to the development of oral cancer. The most common are the use of tobacco and alcohol. Others include poor oral hygiene, irritation caused by ill-fitting dentures and rough surfaces on teeth, poor nutrition, some chronic infections and combinations of these factors.
Studies have shown that the death rate from oral cancer is about four times higher for cigarette smokers than for non-smokers. It is also widely believed in the medical field that the heat generated by smoking pipes and cigars irritates the mouth and can lead to lip cancer.
Those at an especially high risk of developing oral cancer are over 40 years of age, heavy drinkers and smokers, or users of smokeless tobacco, including snuff.
A Word About Oral Care
Keep in mind that your mouth is one of your body's most important early warning systems. Don't ignore any suspicious lumps or sores. Should you discover something, make an appointment for a prompt examination. Early treatment may well be the key to complete recovery.