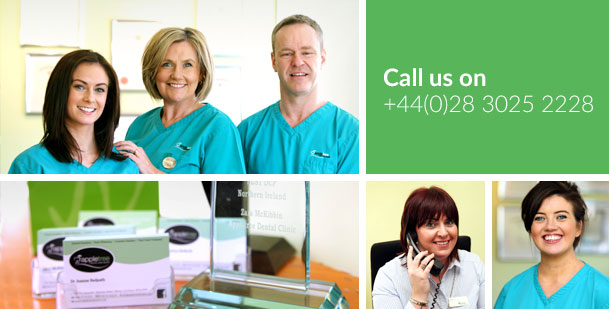 Private Parking
Private parking is available immediately outside the practice. Should the spaces at the front of the practice be taken please proceed on round to the rear of the practice.
Methods of Payment
Accepted methods of payment are: Sterling - cash or cheque Euros - cash (Euros are charged at bank rate checked at the start of every day)


Practice policy is to receive payment at the end of each appointment.
Opening Hours
Monday - Thursday
9:00-17:30
Friday
9:00-17:00
Appointment Scheduling
We understand that you have a busy schedule and recognise the need to provide an efficient service. We will make every effort to see you at your scheduled appointment time.
There will be no charge for changing your appointment provided that we are given at least 24 hours notice.
We will charge for missed appointments or late cancellations. This allows us to run efficiently and keep our fees at a reasonable level for you.
Emergencies
For patients of our practice we strive to respond to emergencies at the earliest time practicable. In case of emergency please telephone the practice without delay. Most of all we strongly encourage all our patients not to wait until a problem becomes an emergency. This can cause you undue and avoidable distress. If you have a dental problem contact us without delay. In some cases we can advise action you can take yourself; in others we will arrange an appointment which is convenient for you.

Disabled access
We are proud that Appletree Dental Care is a ground-floor practice, and designed to be disabled friendly.
Denplan Approved
Denplan provides a variety of fixed fee payment plans to cover unforeseen dental needs.
For more information contact us or visit the Denplan web site.
Acknowledgements
"My thanks to the British Dental Health Foundation and the Association of Dental Implantology for providing the excellent patient information used in this site and to our patients for providing such kind testimonials. These real life cases and testimonials are invaluable for us as a practice in showing what we do best and we thank our patients for giving their permission to use them.
Finally a debt of gratitude to my husband Colm, brother in law Cormac and the team at Flint Studios in Belfast, for their hours of dedication and skill in producing this wonderful Web site and in the subsequent refresh. Our Web site tells you who we are in an honest and easy to use way and it has been one of the key drivers in our phenomenal success since starting Appletree in 2006." Katrina