Appletree now offer facial aesthetics
Thu 01 June 2017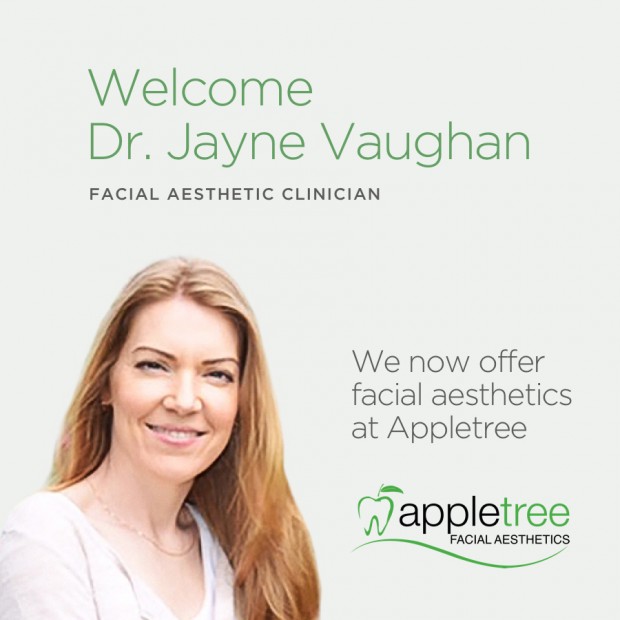 Now we have even more ways to make you smile!
Since we formed Appletree Dental Care ten years ago our patients have come to expect the very highest standards of care and we have always strived to surpass those expectations. The comfort and well-being of our patients is paramount. We also realise that when it comes to dental work, many people are concerned with appearance as well as health and so we are delighted to offer a new service at Appletree Dental Care – Facial Aesthetics by Dr Jayne Vaughan.
Dr Jayne Vaughan has worked in England and Northern Ireland as a general practitioner since qualifying as a dentist in 1998 from Queens University Belfast.
Jayne has always been interested in the specialty of facial aesthetics and considers it complementary to dentistry when improving overall appearance. After completing her foundation training in facial aesthetics, she then completed an advanced course to gain further insight into the field of aesthetics. Jayne is continually upgrading her skills and range of treatments by regularly undertaking training courses.
Jayne is also a member of the highly respected ACE online group of aesthetic experts who provide advice and support should any complications arise.
Jayne's philosophy of a high level of patient care/aftercare and her calm, professional manner in explaining the options and procedures carefully, fits perfectly with the customer support our patients have always enjoyed at Appletree Dental Care.
As part of the Appletree team, Jayne will be offering anti-wrinkle injections (more commonly known as Botox) in the following areas:
• Crows' feet, forehead and frown lines
• Downturned mouth and poppy chin
• Lines between the nose and mouth
• Square jaw (this treatment can also reduce tooth grinding and clenching)
• Excess armpit sweating
• Bunny lines on nose
• Vertical neck bands
Jayne also uses filler injections for lip or cheekbone enhancement, removal of deep facial lines, nose to mouth lines, mouth corner lines and fine facial lines like smokers' and lipstick lines. Jayne also offers overall skin conditioning injectable treatments to hydrate and support the skin over a large area.
Most anti-wrinkle treatments commonly last between three and four months although they can last for up to six months. Filler treatments last between six and eighteen months. Jayne is fully dedicated to the care of her patients and to providing excellent aftercare. She'll consult with each patient individually to ensure they get the right treatment tailored to them. To find out more about facial aesthetics at Appletree Dental Care or to arrange a free consultation with Jayne contact us today on 028 3025 2228 or email info@appletreedental.co.uk.