Dental Implants can change your life….
Fri 29 January 2016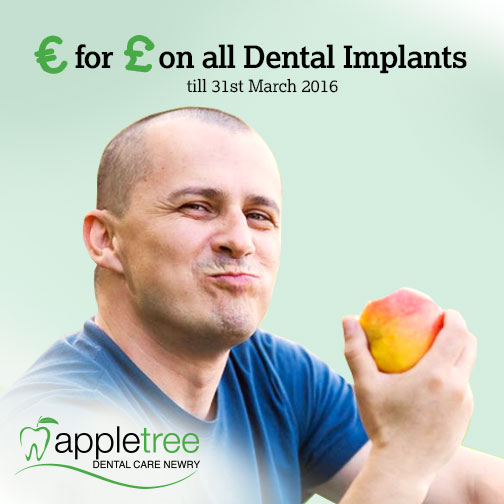 The loss of chewing ability and compromised appearance following the extraction of teeth is hard to appreciate unless you have experienced it yourself. Dentists commonly find a patient's sense of psychological well-being is also harmed by tooth loss. The traditional means of replacing missing teeth was a removable plastic denture or if you did not mind the neighbouring teeth being drilled down you could have fixed bridgework. Many adults have experience of one or both of these treatments.
When dental implants were introduced into clinical practice it was revolutionary. For the first time patients could have a direct replacement of a missing tooth without relying on dentures and bridges. The commonest use of dental implants remains the replacement of a single missing front teeth, which could be considered an aesthetic treatment solely but they are also used to replace missing back teeth and can transform someone's ability to chew properly again. They are versatile and can be placed at intervals across a large gap to support fixed implant bridgework.
An extremely common problem that patients contend with is full lower denture wear. These are notoriously tricky to wear, usually unstable and unretentive and the World Health Organisation (WHO) defines full lower tooth loss as a disability. One of the most common solutions to this problem is the placement of just two implants in the lower jaw forming a platform onto which the loose denture can be clipped. To say that this is transformative understates things. Patients usually report back upon review that speech, chewing and aesthetics have improved greatly. The knowledge that you can go to a restaurant, with the certainty that a denture will not fall out in the company of friends and family, is a huge confidence boost. Patients commonly find that self-conscious traits have automatically disappeared such as hiding the mouth with a hand when they smile or chew. And this is with just two implants.
What would four dental implants be like? Patients with no teeth also have the option of fixed teeth and four implants allows the placement of fixed teeth, known as bridgework. Classically the implants are placed at a preliminary surgical visit with teeth fitted some months later. The interim period usually sees the patient grappling with a conventional removable denture, counting down the days until fixed teeth are ready. Patients these days have often heard of 'Teeth-in-a-Day', 'All-on-Four' and 'Fast and Fixed' and these are brand names some of the leading implant manufacturers use to describe bridgework fitted on four or more implants within a few days of surgery. This is called immediate loading and can happen in certain circumstances where implants have been placed in very solid jaw bone. Being able to do away with the unstable temporary denture needed in the classic protocol is hugely appreciated and significantly improves the recovery period.
It is hard to overstate the positive impact dental implants on someone's self-confidence, ability to chew and willingness to smile unselfconsciously. It remains a most rewarding part of clinical practice to see someone's life transformed by such a simple treatment.
Appletree Dental Care are members of the Association of Dental Implantology. View our dental implant case photos illustrating some of the varying circumstances in which implants can be beneficial. Considering dental implants? Get in touch, we'd love to hear from you